K157FMI-A/K157FMI-J(K01)
2014-11-13
|
6816
|
Print
|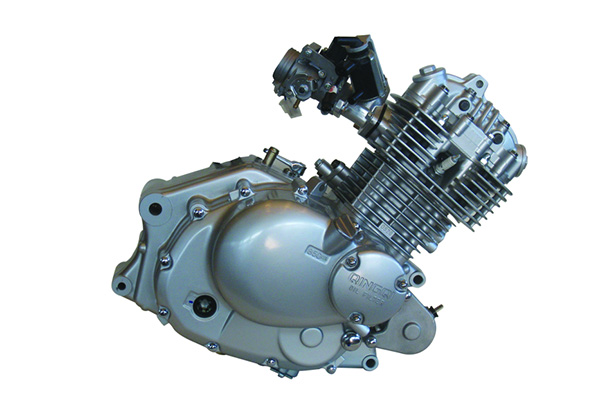 ◆ Double oval combustion chamber with double spark plug.
◆ Use the most advanced lean burn technology in the world, carry on the intelligent ignition chip matching control, independent dual ignition device realize engine double-dot combustion.
◆ The best ignition curve according to the engine features.
◆ Use of DT-I technology greatly improves combustion efficiency, and makes full use of the engine potential.
◆ Powerful engine with greatly improved maximum torque.
◆ One of the first "China's Top Ten Motorcycle Engine".

Technical Parameters
Engine type
1-cylinder, 4-strokes, air cooled SOHC
Bore
57mm
Stroke
48.8mm
Displacement
124 cc
Compression ratio
9.3:1
Max power
8. 3 kw /9000r/min
Max torque
9.0 N.m /8000 r/min
Minimum fuel consumption ratio
≤367g/kw.h
Fuel feeding
K157FMI-A: carburetor
Starter system
Electric /kick
Ignition model
PEI
Clutch
Wet multiple plate
Drive system
Mechanical
Transmission ratio
primary gear ratio 3.470
Shift gear I/II/III/IV/V
3. 000/1. 857/1. 368/1. 095/0. 913
Attention Qingqi Motorcycle
Wechat Official Count
Top